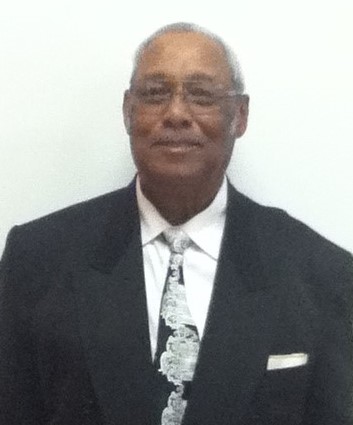 James Leon Chapman of Keswick, Va. passed away Tuesday, July 18, 2017, at Martha Jefferson Hospital surrounded by his family. He was born in Albemarle County on July 7, 1937, to the late Alexander and Elizabeth Chapman of Albemarle County.
Along with his parents, he was preceded in death by three brothers, Rudy Dickerson, Lawrence Chapman and Earnly Chapman and two sisters, Gertrude Jones and Alice Arnette.
James "Jim Dandy" Chapman was a happy, fun-spirited man who always greeted you with a smile and a kind word. James loved people and loved making them laugh. At family gatherings, he enjoyed making everyone laugh by telling a joke. James was an avid gardener. His vegetable gardens produced a variety of vegetables such as juicy tomatoes, potatoes, onions, pole beans, mustard greens and mouth watering watermelons and cantaloupes. During the summer, one only needed to visit James' garden and forgo the grocery store! Not only was James gifted at growing his own vegetables, which he loved to share with his family and community, he was an excellent cook. James was famous for his sirloin roasts that melted in your mouth, country hams, silky smooth gravy and scalloped potatoes. Honestly, there was nothing he couldn't cook! At family gatherings James' favorite place was in the kitchen, wearing his red apron with a carving knife in hand.
He was raised in a loving Christian home and baptized at an early age. James was a life-long member of Zion Hill Baptist Church, serving as an Ordained Deacon, and for many years Chairman of the Deacon Ministry. James loved Zion Hill and looked forward to Sunday morning worship service. Faithfully, he was seated on the front row of the church's pew praying and singing praise to The Lord. He enjoyed listening to the choir while clapping his hands and tapping his feet to the music.
James proudly served his country while enlisted in the Army, where he was stationed at Fort McClellan, Alabama. In 1971 he began his career with Kane Furniture and remained a faithful and devoted employee until 2013. His greatest joy in life was his family. James loved his grandchildren and great-grandchildren. He showered them with love and spent quality time with each of them. They affectionately referred to him as PaPa.
James leaves to cherish his memory his loving and devoted wife of fifty-three years, Rachel Chapman of Keswick, Va.; two children, Paul Brassfield and wife, Carolyn of Felton DE and Carmelita Gaines and husband Earnest of Charlottesville, Va.; two sisters, Bernice Mitchell and husband, Kenneth of Keswick, Va. and Alberta Mahanes of Keswick, Va.; three sisters-in-law, Shirley Thompson of Charlottesville, Va., Patricia White of Charlottesville, Va. and Linda Ayers and husband, Floyd of Charlottesville, Va.; four grandchildren, Jeffrey White Jr. of Keswick, Va., Tiffany White and husband, Jamaal of Charlottesville, Va., Erica Gaines of Charlottesville, Va. and Earnest Gaines III of Connecticut; nine great-grandchildren, James, Jayla, Jordyn, Zuri, Nia, JaQuavion, Brooklyn, King and Bellemy; two goddaughters, Lisa Chapman of Keswick, Va., and Patrice White of Charlottesville, Va.; one special Aunt, Lucille Chapman, many loving nieces and nephews, cousins and a host of friends. James was a husband, father; grandfather, brother, uncle, cousin and friend. He was loved and will be sorely missed.
Funeral services will be held at 2:00 p.m. on Sunday, July 23, 2017, at St. John Baptist Church, Cobham, Va. Interment will follow at Zion Hill Baptist Church Cemetery. The family will receive friends at St. John Baptist Church one hour prior to the services.
The family extends their sincere gratitude to his attentive caregivers. Along with our Lord and Savor Jesus Christ, you have made this four-year journey possible: Jerome Harris, Crystal Ross, Shinel Jones, Michelle Rush, Kimberly and all of the At Home Care staff.
J. F. Bell Funeral Home is in charge of arrangements. Please sign our guest book at www.jfbellfuneralservices.com