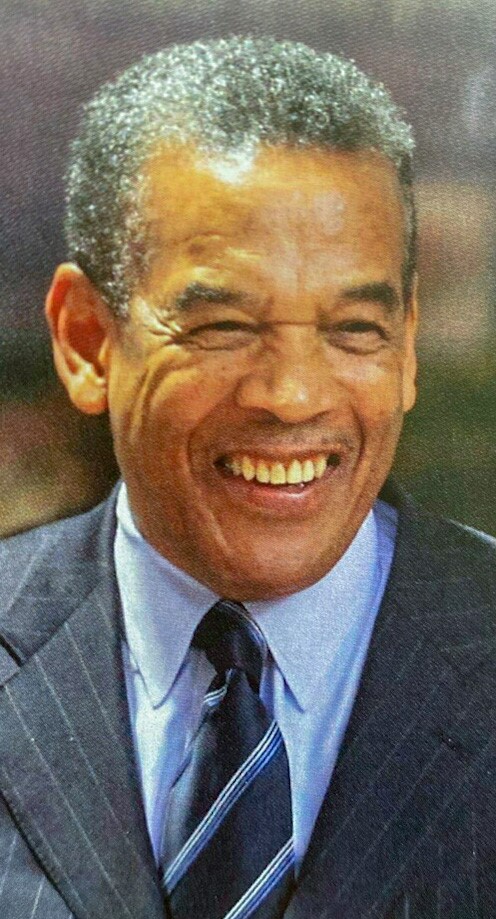 On Thursday, June 18th, 2020, Dr. Earnest Jonathan Edwards Jr. departed peacefully from this life after a prolonged illness in Northern Virginia and Washington D.C. He was born May 31, 1938, the third of seven children from Earnest Edwards, Sr. and Nelsie Cobbs Edwards of Pamplin, Virginia. The family fondly named him "Joe," and others in his professional circles called him, "Earnie."
During his junior and senior years of high school, Earnie learned the importance of a strong work ethic. While a full-time student, he simultaneously worked night shifts as a waiter in a restaurant 11 miles away from home and served as a substitute school bus driver for two routes. Upon completion of high school, he earned his Bachelor's degree in Accounting from Virginia State University in Petersburg, VA. He later earned a Master's degree from Duquesne University in Pittsburgh, PA, and an Honorary Doctorate from Virginia State University for his role as a Board Member and Rector for the institution. Earnie enjoyed 50 years marriage to his college sweetheart, Lottie Payne Edwards of Charlottesville, VA. The two were married at Mt. Zion Baptist Church in Charlottesville, on July 20, 1963. Earnie affectionately deemed Lottie his biggest fan, his chief advisor, and life-long love.
Earnie's professional career included a tour of duty as a First Lieutenant in the U.S. Air Force; employment with the Internal Revenue Service, and the Federal Housing Department in Washington, DC. His most highlighted employment is the position that he took with the Aluminum Company of America (ALCOA), a global leader in the production and management of aluminum products, until his retirement as Senior Vice President and Controller. Voted as one of America's 10 most influential Corporate figures in the Accounting industry by Accounting Magazine, and a Financial Executives International (FEI) Hall of Fame recipient, Earnie quickly turned his expertise in business to the service of others. He served on numerous Boards including: Rector on the Board of Visitors at Virginia State University; Director of the Pittsburgh Theological Seminary; Emeritus Director of LaRoche College in Pittsburgh; Director of Duracell International, Inc.; and he served on the Board of Directors for the Martha Jefferson Hospital (MJH), in Charlottesville, VA. Additionally, Earnie was a recipient of the MJH Henry B. Theielbar Leadership and Governance Award; and was a proud member of Kappa Alpha Psi Fraternity, Incorporated.
After retirement, Earnie also provided consulting services to the U.S. Treasury Department. For 31 years, he served as a Deacon at Mt. Ararat Baptist Church in Pittsburgh, PA, and was a member of the Diaconate Ministry at Mt. Zion Baptist Church in Charlottesville, VA. Throughout his professional career, Earnie lived by the advice given to him by his parents, "Whatever you do in life, do it as if you were working for the Lord; give it your best effort."
Besides his loving parents, Earnie was preceded in death by his beloved, brother Willie Edwards ("Jerry"); sister Edith Rountree; and brother James Edwards ("Casey").
His surviving siblings are sisters: Jewel Greene, Corine Dungee (husband Sam Dungee), and Shirley Baker.
Earnie is survived by his three adult children (and their spouses): Mark Edwards (Terresita Edwards), Deborah Rutherford (Ralph Rutherford, III), and Delores Edwards Harding (James Harding, Jr.). Earnie enjoyed eight grandchildren: Morgan Yancey, Taylor Edwards, Mark Edwards Jr., Camille Edwards, Carmen Edwards, Andrew Rutherford, Christina Rutherford, and Aric Rutherford. Earnie remarried in 2015, and leaves his second wife Sherry Gray Edwards, her three adult children (Jessica Gray, Michael Gray, and Lauren Gray), as well as a host of other family members and friends.
Funeral Services and the Internment will be "invitation only" due to COVID -19 safety concerns, and will be held on June 27, 2020. The burial will take place at Holly Memorial Gardens Cemetery in Charlottesville, VA. The family will receive friends on Saturday, June 27, 2020, from 10 a.m. to 12 Noon at the J. F. Bell Funeral Home, Charlottesville, VA 22903.
Sympathy cards may be sent to the attention of Mark J. Edwards, 15238 Chula Place, Woodbridge, VA 22193. In lieu of flowers and other gifts, the family requests that monetary donations be made in the name of Dr. Earnest J. Edwards Jr., to the Mount Ararat Community Activity Center, 745 Negley Avenue, Pittsburgh, PA 15206. The Community Center was a labor of love for Drs. Earnest and Lottie P. Edwards.